MFRU festival and PostArtLab are establishing an experimental environment that introduces new methodologies and epistemologies of creating and discovering nature on the level of senses (hearing, smell, taste, sight, touch). By mixing electronics, electronic music and organic matter we are creating art that reveals the complex relations between technology and the concepts of nature, which – under the influence of evolution – is constantly changing, just like the human kind.
The project addresses intermedia conceptual approaches and encourages transdisciplinary collaboration and an interlacement of contemporary technologies, sounds and visual images. It also attempts to create an open dialog about the relationship between artificial and natural environments that are accessible to everyone and improve the quality of living.
VJPostArtLAb are: Monika Pocrnjić, Jerneja Rebernak, Barbara Seme, Daša Slavič
Related actions:
http://www.flickr.com/photos/scalefreenetwork/sets/72157635470661222/
Monika Pocrnjić (1987) is in her final year of Fine Arts Pedagogics studies at the Faculty of Education Maribor. She is currently developing the PostArtLab within the GT22 premises, aiming to actively explore the value of an aesthetic dimension which defines art as a communication experience. She collaborates with Maribor's Multimedia Center Kibla, GT22, Sonček Association from Ptuj (special pedagogics and fine arts therapy), Biomodd team and with SGMK – Swiss Mechatronic Art Society.
Jerneja Rebernak graduated in communicology (University of Ljubljana) and has a MA degree in Media studies (University of Amsterdam). She worked at the Asian-European Foundation in Singapore and the European Cultural Foundation in the Netherlands. She spent the last two years with the Maribor 2012 institute as a coordinator for the international program Cultural Embassies. Since February 2013 she acts as program manager at the Cultural Center of European Space Technologies (KSEVT) in Vitanje. As part of GT22 she contributes to the creative work in PostArtLab, a research and creative lab for the promotion of knowledge, networks, AV and DIY hacker experiments.
Barbara Seme is a student of art pedagogy, actively working as a mentor for children's programs, project leader of student actions and head of numerous visual art workshops, and contributing to the organization of other cultural events. Her current activities involve working at Art Gallery Maribor – Maistrova Residency, volunteering at the Hiša! Association and collaborating with the PostArtLab team, GT22. Her work has been presented in eight group exhibitions, including one abroad.
Daša Slavič is a bohemian travelling artist working in Ljutomer, Maribor and Ljubljana. She works with all graphic techniques, explores unbridled children's linear drawings and uses primitive-naive art forms in painting. A great fan of the sculpture stand, ceramics and hand-made jewelry from natural materials. She is also into microcosmic video projections – the so-called VJ-performance, photography, poetry, comic books. A (former) student of art pedagogy in Maribor, who prefers the non-academic ways and often exchanges college lectures for a walk in the forest to do some land art, play the flute on the city streets, or write verses for her unrequited love.
DJ Damir Pečnik f.k.a. D'Sun makes a comeback at the music scene following a 5 year break. The fusion of funk and experimental music, upgraded by Damir's characteristic creative spark and collaborative collision with Monika Pocrnjić's visual world, will ignite goose bumps in visitors and provide for a unique setting of this year's MFRU-KIBLIX festival.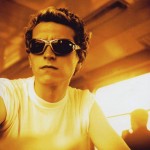 The art of playing music – not only the scene of it but also the waves of digital music and thermal conditions of synthesized sounds, typical of Nineties and substantiated by visual effects along with animated subversive undertones, returns once again to our city, as well as to our general consciousness.