3D installation, 2013
Zoran Srdić Janežič features seven multiples of his body with a pig's head, rather dramatically heralding the final statue of a pig's body with the artist's head made of fat; the author is intrigued by the material immediacy, whereby fat symbolizes motherhood, fertility and nutrition.
Srdić Janežič utilises the multiplication of his body to challenge the idea of individuality. The latter is not a uniform concept, ready to be presented with a visual depiction of corporeality; contrary to the common notion, individuality is always dissected and disharmonized.
There is also a side-product of creating the piglet in "Maya", computer graphics software for 3D DIY printing, namely an animated video featuring a virtual pig which sublimates the author's animalistic nature.
"Every person has his/her own 'yawp', stuck between the body and intangible sound, lying beyond the boundaries of linguistics, semantics and logic."
http://sites.google.com/site/zoransrdic/
Biography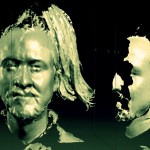 Zoran Srdić Janežič
is an academic sculptor, visual artist, video artist, puppeteer and intermedia artist. He is interested in humor, which he uses to emphasize neuralgic points of our daily lives. He often includes methods for making puppets in sculpture and uses them in performances. As a performer, he derives from the topic of public sculptures and their function in the public space, from the body or from public interventions.