Industrial revolution brought along additive technologies or 3D printing; these are modern technologies based on the principle of material additive process which allows us to manufacture a product in one step only while having a complete control over its quality.
Additive technologies are nowadays featuring on the market in the form of three-dimensional 3D printers. These allow us to print a three-dimensional product – a 3D model previously designed in a computer environment.
One of the unique traits of additive technologies lies in their independency from geometric shapes, as it is possible to manufacture any kind of product (an assembled product or a functional mechanism) in only one stage, regardless of the type of product or its purpose; we can create either a study model for operational planning, a dream car prototype, a ring, a cup or a lamp for our living room.
Biography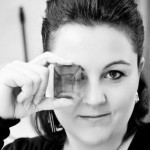 Olga Košica holds a MA from London's Royal College of Art in goldsmithing, silversmithing, metalwork and jewellery. She also graduated in Engineering of textiles and clothing at the University of Ljubljana.  She has collaborated on numerous group and individual exhibitions in Slovenia and abroad.