1983–2013
Guttenberg's printing machine invention is perceived as a cornerstone of the subsequent development of Linguistics and Grammar. A printer soon becomes a reproductive medium for spreading knowledge; it fosters the development of reading and writing cultures and also lays foundations for primary school education.
Today's New Age reproductive machine is the invention of computer technology; it permits access to a genuine bilateral communication while integrating not only linguistic but also imaging information. Additional complexity then arises at every subsequent dimensional level.
The author first came in contact with computer in the Eighties and ventured into the world of expressive and animated drawing and painting. Variations on the theme of polygonized surfaces which at the time were spatially modulated in a minimalistic manner were another one of his interests.
After three decades, however, the polygonized surface has gained a completely new meaning and spatial perspective. In the author's case, it came about as a reaction to a 3D model of his own body and was further interpreted as an inner landscape: a stroll around interiority or exteriority of one's own body.
Biography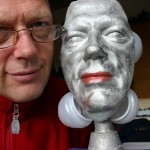 Vojko Pogačar
graduated from the Academy of Fine Arts in Ljubljana. He is a member of the Association of Fine Artists Maribor (DLUM) and ZDSLU (Union of Slovene Fine Arts Associations), Association of Fine Artists Paris – Belleville and a member of art groups 3H30 (Paris – Bordeaux) and Antarctica (1997). In 2010, he has become a president of SZB – Slovenian Association for color and in the following year, he has set up a D.COMP – Design Center of Excellence within RAZ:UM with his colleagues. As an adjunct professor, he teaches Engineering Design at the Faculty of Mechanical Engineering at the University of Maribor.