Interactive installation, 2009
Headbang Hero is a satirical rhythm videogame using a wireless, motion-sensing wig to detect the player's performance as he/she violently shakes her head in appreciation of Heavy Metal music.
Headbang Hero is a videogame for testing your headbanging prowess with heroic disregard for your own health. Wearing a special motion-sensing wig, you are awarded points for vigor and timing while you headbang to the powerful chords of heavier-than-metal music.
When the game is over, a personal report is printed out for you, including data about your performance, the amount of real damage you sustained during play and some dubious but friendly advice.
http://cargocollective.com/tiagomartins/Headbang-Hero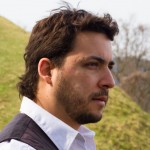 Tiago Martins continues his education at the Faculty of Science and Technology of the New University of Lisbon as a researcher at the Center for Informatics and Information Technology (CITI). Simultaneously, he is enrolled in doctoral studies in the field of Interface Culture at the University of Art and Industrial Design in Linz, where he is also a lecturer in the Master's program. He is a software engineer for the project Quell.Code – Media arts as a management system.
Ricardo O'Nascimento is an artist and researcher in the field of new media and interactive art. He investigates body-environment relations focused on interface development for worn devices, interactive installations and hybrid environments.
Andreas Zingerle is an Austrian artist and designer. He is currently a PhD candidate at the University of Arts and Industrial Design, Linz/Austria, where he also graduated at the Interface Cultures Department. His works have been exhibited in several venues around the world, and he is behind the kairus.org project together with Linda Kronman.