Video installation 2013, 9'20''
What will life look like hundred years from now? Will we be communicating via transfer of thoughts? Will computers be storing our memories? Will we be travelling into space by space elevators? Will the whole world be governed just by one world government? All these or nothing at all or much more than that… The possibilities are countless, limited only by our vision. Thus, the right question to ask is what is our vision? It can be realistic, cautious, daring, dreamy, utopian… The video Message in a circuit in a visual dialogue of contemporary Buenos Aires and Ancient Roman Brijuni emphasizes the importance of perspective in our world of complexities. It depends from our perspective how we perceive the world around us, what we remember from the past and what we see in the future.
Biography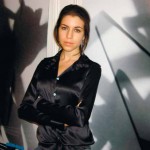 Eva Petrič graduated in Psychology and Art at Vienna's Webster University. She received her master's degree in 2010 in the field of New Media at the Transart Institute (New York–Berlin).
She deals with artistic photography, painting, video, projections, performances and writing. She is a member of The Vienna Künstlerhaus and of the Z+E+M art collective. Currently, she is torn between Vienna and Ljubljana.