Interactive installation, 2013
The project's baseline is set as the concept of a unifying interaction, striving to express itself in a digital medium. Apparatus Monolith functions on the principles of manipulation, digitalization, activation and networking. The key process is the interaction between an individual and the Monolith, while installation's user tools are being created on the spot. Technological production contains a development component: when we eliminate the element of time from the process and re-expose it as an isolated item, we address the mystical dimension of alienation which reveals the magical component of a digital procedure. Repression of individualistic thinking is transformed into fluid networks; consequently, user's digital image may become subject to its permanent manipulation.
The concepts of time and space are both being modified due to the development of communication technologies and the overriding principle of digitalization. Apparatus Monolith provides modern technological paradigms with a new meaning and, through human reinterpretation, narrates about underlying pitfalls of contemporaneity.
http://www.masajazbec.si/?page_id=69

Biography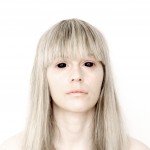 Maša Jazbec is a graduate of the Faculty of Education Maribor, majoring in Fine Art Education. She is completing her postgraduate studies of New Media at the Linz University of Art and Design.
She works in the field of video and interactive installations, taking an active part in the implementation and organization of the cultural program Trbovlje – New Media City at the Labour Home of Trbovlje. She is a founding member of the art group V.A.T. (Visual alternative Trbovlje).