Installation 2013
This multimedia installation is based on research and experiments with different kinds of microfluids and nanomaterials. Ferrofluids, which react as a live, generative responsive surface to the electromagnetic waves, will produce esthetic micro-landscapes. The installation consists of small-size petridishes with nanorobots positioned inside the larger petridish containing ferrofluids. The microscopic camera, connected to the computer through a projector, shows reactions on the nano-level, where chemical processes function under different laws. The ferrofluids are driven by a magnet, and the nanobots by peroxide.
Authors: Robertina Šebjanič and Aleš Hieng Zergon
Consultant: Ida Hiršenfelder
Special credits: Dr. Samuel Sanchez Ordonez and Marc R. Dusseiller
Coproduction: KIBLA and LJUDMILA
Photo gallery and video links to the work:
https://www.facebook.com/photo.php?fbid=10151590564227820&set=a.10150413367392820.342646.540042819&type=1&theater
Link to the author's CV: https://vimeo.com/robertina
Biography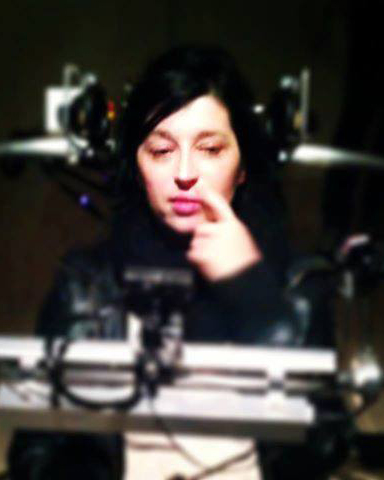 Robertina Šebjanič (1975) is a creator in the field of intermedia and a cultural facilitator. In terms of content, she often realizes her ideas and concepts in cooperation with other authors, which is why her works embody interdisciplinarity and informal integration.

Aleš Hieng – Zergon (1984) is a musical performer with a BA degree in chemistry. His improvised live performances are characterized by analog-produced and modulated sounds and noises combined with field recordings, as well the use of personally created electronic sound devices.